Parent Support Project
When you learn your child has a developmental disability, you grieve for the loss of all that "should have been" for your child.  Many have intense emotions that come in waves - anger, sadness, desperation, disbelief - all the while hoping that you will one day reach a place of acceptance and peace.  But for many that peace does not come easily, if at all.  Parents often become so focused on the needs of their child that they aren't allowed the opportunity to grieve the loss of their own "self", as they will never know what it is like to not be the parent of a child with a disability. Their child's care and well-being will forever be the focus of their every waking moment.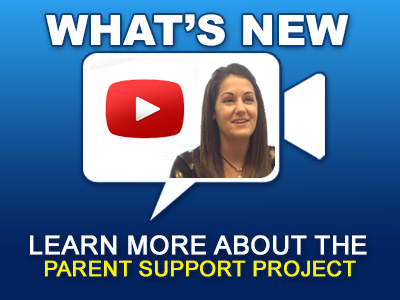 At a time when accessing care and services for those unable to care for themselves is a never ending battle, parents and caregivers are battered, bruised, and depleted.  We at PACT never want another parent to feel like they do not have a choice, have no one to talk to, or nowhere to turn.  As part of the Parent Support Project, our Parent Liaison is available to offer parents and guardians a "lifeline" by providing easily accessible information on available resources, prompt answers to questions, and the comfort of knowing that they are not alone. 
The Parent Support Project began in response to the tragic event that took place in Elmhurst in the fall of 2014 when a man took the lives of his two disabled children, his wife and then himself.  Sadly, we continue to see the tragic consequences of lack of support:

80% divorce rate for couples who have a child with special needs
Families in financial crisis
Increased risk of abuse, neglect, and suicide
High rates of anxiety, depression, and increased risk of substance abuse.
As part of the Parent Support Project, Parent Liaison services are now available to parents/guardians living in DuPage County who have a child with a developmental disability. 
Services Include:

One-on-one support in the home and by telephone
Support group for families who share similar concerns
Information and support during times of transition particularly when a child transitions out of formal schooling and for parents/guardians as they plan for their adult child's future care
Attendance at initial and final transitional IEP meetings as well as presenting at parent meetings to support parents in accessing services as their child transitions out of school.
Increased access to parent-specific resources and information
We are happy to introduce you to our new Parent Liaison Gina Danehl:
Gina's most significant life experience comes from being the mother of two energetic boys as well as having her eldest son diagnosed with autism at age 3.  Having a child with special needs, Gina knows first-hand the emotional journey and unique concerns common among parents who have a child with a disability. Gina has also worked in social services for the past fifteen years offering support and fostering growth during the most trying of times. 

To speak with a Parent Liaison or for more information on the Parent Support Project, you may contact:

Gina Danehl
gdanehl@dayonepact.org
331-481-4197